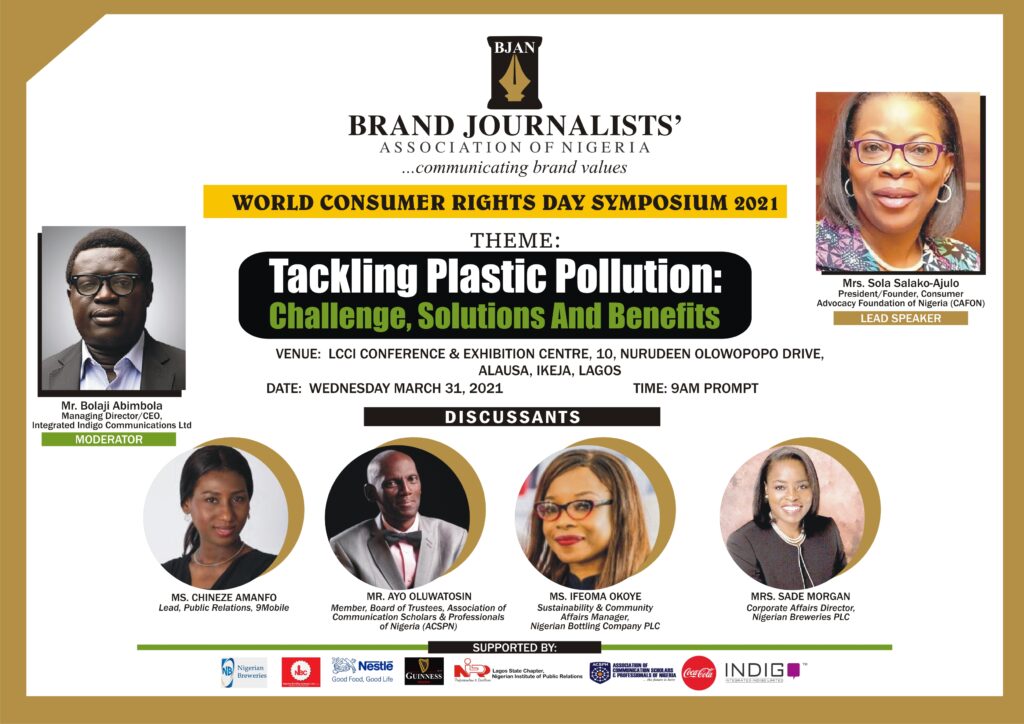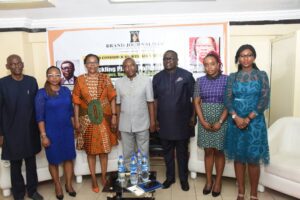 L-R: Ayo Oluwatosin, member, board of trustees, Association of Communication Scholars and Professionals of (ACSPN); Ifeoma Okoye, sustainability and community affairs manager, Nigerian Botling Company Plc; Sola Salako-Ajulo, president/founder, Consumer Advocacy Foundation of Nigeria (CAFON); Princewill Ekwujuru, Chairman, Brand Journalists' Association of Nigeria (BJAN); Bolaji Abimbola, MD/CEO, Integrated Indigo Communications Limited; Jennifer Uchendu, Head, Sustainability and Regulatory Relations, Nigerian Breweries Plc, and Chineze Amanfo, Lead, Public Relations, 9Mobile, at the 2021 BJAN
By allcitynews.ng
The celebration of 2021 World Consumer Rights Day (WCRD) might have come and gone, but the effects of that meeting would remain long time in the minds of the participants.
In the event organised by Brand Journalists Association of Nigeria (BJAN)
captains and technocrats of brand and marketing industry expressed their concern about the danger of plastic pollution in the land.
Commending the leadership and members of BJAN for coming out with such theme; "Tackling Plastic Pollution, Challenges, Solutions and Benefits," at a time like this when empty plastic containers are becoming threat to the environment, the lead speaker, Mrs Sola Salako-Ajulo and the panel of discussants unanimously came out with how best the menace of plastic pollution can be curbed.
In her opening remark at the one day symposium held in Lagos, the lead speaker, Mrs Sola Salako-Ajulo, President/Founder of Consumer Advocacy Foundation of Nigeria (CAFTON) applauded BJAN for fighting the cause of consumers, saying "it is only when media expose issues to policy makers that such issues received attention by the concerned bodies. Following my outcry and coupled with that of BJAN, fighting plastic pollution is gaining more momentum."
Plastic pollution is regarded as the accumulation of plastic objects and particles such as plastic bottles, bags and microbeads in the environment that adversely affects wildlife, habitat, and humans.
Speaking further, Salako-Ajulo, stressed that until we work together to reduce the use of plastic, the world would be facing serious danger as the pollution is on daily basis becoming threat to safety of human beings and nature in general.
She added that human negligence is one of the reasons we experience plastic pollution as people lack proper ways of disposing waste materials especially dumping of plastic waste materials in water channels which go into the oceans and cause harms to lives in water
Mrs. Salako however highlighted the 7 'R's put in place by Consumers International as a way forward to minimize the effect of plastic pollution in our environment. The 7 R include rethink, refuse, reduce, reuse, recycle, repair, and replace of plastic material to fight against plastic pollution. She said people should be responsible and take responsibility in tackling the pollution problem and deliberately taking action. She said consumers can help reduce the use of plastic by making use of paper bags instead of nylons or reuse the plastic materials instead of picking new ones to carry their groceries every time they visit the market.
In the same vein the panel of discussants moderated by Mr. Bolaji Abimbola, MD, Integrated Indigo Communication asked if plastic is a blessing or a curse in our society.
While responding, Ms. Chineze Amanfo, Lead, Public Relations, 9mobile said plastic has been a blessing in our generations because it made things easy though not with challenges but it's proper to find a way to manage it so it doesn't become a curse. Also admitting to this was Ifeoma Okoye, Sustainability and Community Affairs Manager, Nigeria Bottling Company, saying the plastic has helped the society but there is a need to find a sustainable way of using it.
Mrs. Shade Morgan, Corporate Affairs Director, Nigerian Breweries who was represented by Jenifer Uchendu said Nigeria as a consumer of contents of plastics don't have data to track the amount of plastics companies are releasing into the society and this has made NBC to partner with a research company, KPMG to do thorough research on the amount of plastics the company released into the society.
According to her, the company in its commitment to reduce plastic pollution has changed some of its products bottles to transparent bottles for easy recycling as against coloured bottles which are not easily recyclable.
While responding, Mr. Ayo Oluwatosin, member, Board of Trustee, Association of Communications Scholars and Professionals of Nigeria (ACSPN) said both the government and individuals have roles to play in tackling plastic pollution in the society. He pointed out that there is a need for advocacy event by media to let government and individual know what should be done in clear terms.
While speaking, the president of BJAN, Princewill Ekwujuru said the raison d'etre of the event was to put together industry thought leaders to find a lasting solution to the rising plastics pollution in the society and ways to manage it. He said the event which was held both virtually and physically was a result of the Covid-19 challenges the world is facing which has prompted the reduction in large gatherings.
The World Consumer Rights Day is an annual occasion for celebration and solidarity within the international consumer movement. Participants observe the day by promoting the basic rights of all consumers, demanding that those rights are respected and protected, and protesting about the market abuses and social injustices which undermine them