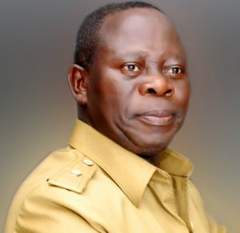 The journey of Adams Aliyu Oshiomhole from Labour into political terrain
Adams Aliyu Oshiomhole came into limelight when he became a Comrade in 1982. He was elected as General Secretary of the National Union of Textile Garment and Tailoring Workers of Nigeria (NUTGTWN), a union with over 75,000 workers.
He then wore two caps as NLC president and as NUTGTWN General Secretary following  his re-election for second tenure.
As part of his unionism exploits, Oshiomhole had collisions with many state governors, private employers, federal government and Heads of State.
For example, he had hard collision with the then Head of State, President Olusegun Obasanjo, during the negotiation of 25 per cent wage increase for public sector workers. Satisfied with how Obasanjo yielded to that increment, Oshiomhole publicly supported Obasanjo and endorsed his candidacy when he was re-elected in 2003.
However, his relationship with Obasanjo turned sour based on the neglect of local oil refineries which made the country to swift to the reliance on imported fuel. Since action by Obasanjo's regime led to increment in the price of fuel, Oshiomhole turning against Obasanjo, mobilized mass action for strikes and demonstrations against the Obasanjo-led regime.
He faced arrests, suffered tear gas and temporary blockades of union offices. In order to cut the power of unionism to near-zero level, Obasanjo introduced legislation to make it more difficult for the NLC to strike.
He was allegedly abducted by State Security Services during a protest on 9 October 2004 Oshiomhole, though Nigerian government said he voluntarily submitted himself to the authority.
Oshiomhole represented African workers for two terms on the Governing Body of the International Labour Organization (ILO), serving on the committee on Freedom of Association. He was also a member of the Executive Board of the International Confederation of Free Trade Unions.
Because as a labour leader, he was not only seen as go-getter but also many employers of labour that failed to abide by International Labour Organisation (ILO) and Nigerian law governing hiring and firing of workers jittered at that name.
As labour leader, he was not only seen as go-getter but shaker of any employer of labour that failed to treat workers according to the International Labour Organisation (ILO) and Nigerian law governing hiring and firing of workers.
His coming into politics with the labour mentality has been making him step on toes of many.
In April 2007, Adams Oshiomhole ran for Governorship election of Edo State under the Action Congress Party (APC).Though Oserheimen Osunbor of the People's Democratic Party (PDP) was declared the winner, that declaration did not sail through.
However, APC contesting that election result based on alleged irregularities made an Edo State election tribunal to nullify the election of Oserheimen Osunbor and declared Oshiomhole the winner on 20 March 2008.
On 11 November 2008, a federal Appeal Court sitting in Benin City upheld the ruling of the state's elections petitions tribunal, declaring Oshiomole to be the Governor of Edo State. The decision was based on several voting irregularities.
In 2012, he was re-elected to a second term, winning the elections in a massive landslide. He ended his tenure on 12 November 2016.
On November 12, 2019 Oshiomhole was suspended from APC after 18 local government chairmen of the party in his native state of Edo passed a vote of no confidence on him.
On 23 June 2018, Adams Oshiomhole emerged as the national chairman of the All Progressives Congress (APC) in Nigeria following a voice vote by delegates at the party National convention.
On the 4th of March, 2020 a High Court sitting in Abuja ordered the suspension of Oshiomhole from office of the National Chairman of the APC that having been suspended from the party
Though he appealed against his suspension at the Abuja Court of Appeal but his suspension was reestablished on 16th of June, 2020. Since then, he has been doing everything possible to remain relevant in political field, hence his is struggling to win the September 2020 Edo State election.
He is now fighting harder than ever before to win Edo State in September 2020 election to rekindle his relevance in political field.