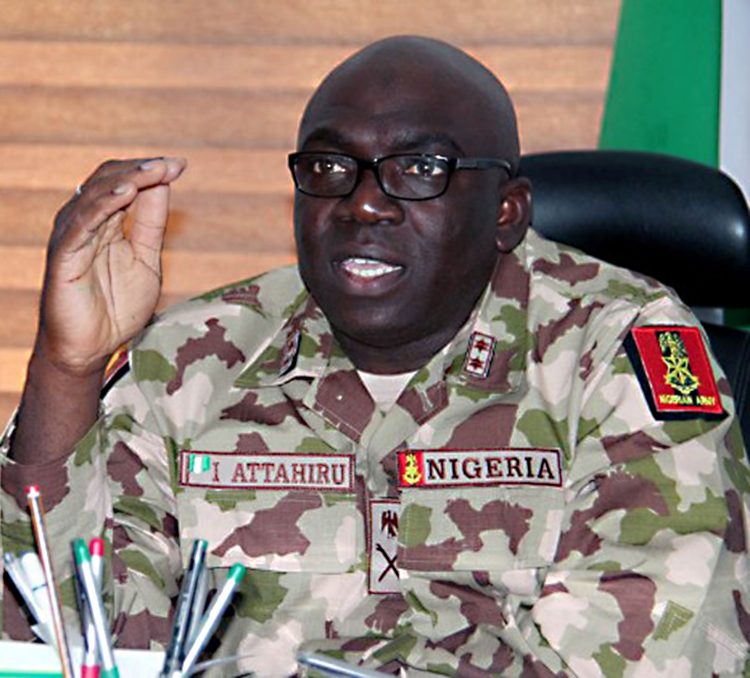 By allcitynews.ng
3 brigadiers, 2 majors in crashed plane, Fati Attahiru alive
Fati Attahiru not inside the crashed plane


Fati Attahiru, wife of the chief of army staff was not inside the crashed Beechcraft 350 plane, as reported.
She is alive.
But six aides of her husband, 54 year-old Lt. General Ibrahim Attahiru, died with him, along with four crew members.
The aides were identified as:
BRIG GEN MI ABDULKADIR, BRIG GEN OLAYINKA, BRIG GEN KULIYA, MAJ LA HAYAT, MAJ HAMZA and SGT UMAR.
Attahiru and the aides were going to Kaduna, ostensibly to attend tomorrow's passing out parade of soldiers from the Nigerian Army Depot in Zaria.
The aircraft, with registration number, 5N-R203 was billed to land at the Nigerian Airforce Base in Mando area.
But it was diverted to land at the Kaduna airport, amid heavy rainfall.
On landing, the plane exploded and burned, leaving occupants no chance to survive.
The Air Force has had several crashes in recent years.
In March, a fighter jet supporting ground troops fighting Boko Haram terrorists went missing in north-east Borno in March.
In February, seven Air Force officials crashed near Abuja.
They were heading to Minna, Niger state capital to assist in the banditry war in the state.
COAS ENTOURAGE IN THE ILL-FATED AIRCRAFT:
1. LT GEN I ATTAHIRU.
2. BRIG GEN MI ABDULKADIR.
3. BRIG GEN OLAYINKA.
4. BRIG GEN KULIYA.
5. MAJ LA HAYAT.
6. MAJ HAMZA.
7. SGT UMAR.
CREW
8. FLT LT TO ASANIYI.
9. FLT LT AA OLUFADE.
10. SGT ADESINA.
11. ACM OYEDEPO.