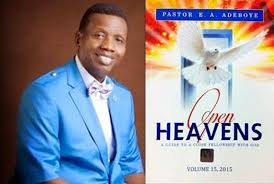 Topic for Thursday Aug 6:How Hot Is Your Fire?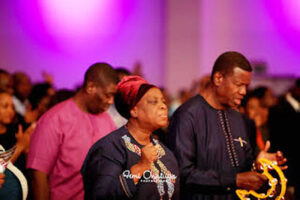 By Pastor E. A. Adeboye, General Overseer
Memorise: So then because thou art lukewarm, and neither cold nor hot, I will spue thee out of my mouth. – Revelation 3:16
Read: Revelation 3:2-6 (KJV)
2 Be watchful, and strengthen the things which remain, that are ready to die: for I have not found thy works perfect before God.
3 Remember therefore how thou hast received and heard, and hold fast, and repent. If therefore thou shalt not watch, I will come on thee as a thief, and thou shalt not know what hour I will come upon thee.
Also read: Open Heaven 5 August 2020 – Exalt Not Thyself
4 Thou hast a few names even in Sardis which have not defiled their garments; and they shall walk with me in white: for they are worthy.
5 He that overcometh, the same shall be clothed in white raiment; and I will not blot out his name out of the book of life, but I will confess his name before my Father, and before his angels.
6 He that hath an ear, let him hear what the Spirit saith unto the churches.
Bible in One Year: Jeremiah 1-3
Open Heaven 6 August 2020 Thursday MESSAGE:
There are three possibilities with your fire. It could be burning bright, burning low or completely out. If the fire is burning bright, be careful. 1 Peter 5:8 says:
"Be sober, be vigilant; because your adversary the devil, as a roaring lion, walketh about, seeking whom he may devour:"
1 Corinthians 10: 12 says:
"Wherefore let him that thinketh he standeth take heed lest he fall."
When fire is burning bright, demons take note of it and are watching closely. Since they cannot touch the fire, they await a time when it will burn out, so they can pounce on the fellow. Make sure you stay connected to God (John 15:5).
If the fire is burning low – you still go to Church, still look and talk like a Christian, but inside, you know you are not as close to God as you used to be, that is being lukewarm. Being lukewarm is dangerous (Revelation 3:15-16). Revelation 2:5 is a great warning:
"Remember therefore from whence thou art fallen, and repent, and do the first works; or else I will come unto thee quickly, and will remove thy candlestick out of his place, except thou repent."
Cry to God for a fresh baptism of fire if you have become lukewarm.
On the other hand, if your fire Is completely out – if you have gone back to the filth of your past and are now doing those things which are completely against the word of God, know that though you have drifted far, God has not rejected you. The fact that you are still alive means He is still interested In having you back. Ezekiel 37:1-10 makes it clear that dry bones can live again. In John 21:15-19, Peter missed it by going back to being a fisherman, but Jesus came to meet him there and restored his destiny. Peter's repentance was genuine; he wept bitterly and was restored. You too can be restored if you cry genuinely to God.
May your fire always burn bright and never go out in the mighty name of Jesus.
Open Heaven 6 August 2020 Thursday Prayer Point:
Father, please help my fire burn bright always and never go down, in the mighty name of Jesus.
Open Heaven 6 August 2020 Thursday Hymn 26: Stand Up, Stand Up For Jesus
Stand up, stand up for Jesus
ye soldiers of the cross;
lift high his royal banner,
it must not suffer loss:
from vict'ry unto vict'ry
his army he shall lead,
'til ev'ry foe is vanquished,
and Christ is Lord indeed.
Stand up, stand up for Jesus,
the trumpet call obey;
forth to the mighty conflict
in this his glorious day:
ye that are men now serve him
against unnumbered foes;
let courage rise with danger,
and strength to strength oppose.
Stand up, stand up for Jesus,
stand in his strength alone;
the arm of flesh will fail you,
ye dare not trust your own:
put on the gospel armor,
each piece put on with pray'r;
where duty calls, or danger,
be never wanting there.
Stand up, stand up for Jesus,
the strife will not be long;
this day the noise of battle,
the next the victor's song:
to him that overcometh
a crown of life shall be;
he with the King of glory
shall reign eternally.
Special note:
Beloved Reader, if you are yet to give your life to Christ Jesus, I would advise you to do so before you continue in this reading. Remember! The Lord Jesus in John 3:3 says, "Truly, truly, I say to you, unless ye are born again, ye cannot see the kingdom of God."
And remember there is nothing like once born again, you remain born again forever. Examine yourself on regular basis. If you are ready to give your life to Christ Jesus, please pray the displayed prayer below in faith:
Lord Jesus, come into my life. I accept You as my Lord and Personal Saviour. I believe in my heart You died and rose from the dead to save me. I confess all my sin, have mercy on me, forgive me all sin, give grace to go and sin no more. Thank You Lord for saving me, in Jesus name Amen.
If you just prayed the prayer of salvation online please send your testimonies and prayer request to info@rccg.org, +234-1-8447340, +234-0-7098213112. Advertise your goods and services with us. Email us: ojezand@yahoo.com. And also, you can do CHANGE OF  NAME IN PRINTED NEWSPAPER. God bless you richly in Jesus name.
Prayer Points on today's Open Heaven, Thu 6 Aug 2020
1.Thank You, Father, for creating me in Your image, and for Your purpose and pleasure.
2.Thank You, Father, for giving me the privilege to be part of Your divine flock. As my shepherd, direct me on the path of righteousness, in Jesus' Name
3.Father, in anyway I have fallen short of your glory, please, have mercy and forgive me, in Jesus' name.
4.Father, empower me to maximize the time and to make productive and positive use of opportunities, that come my way, in Jesus' name.
5.Father, let every opportunity that has gone past me be restored, and let all forms of delays, in my life and destiny, be consumed by Your fire, in Jesus' name.
6.Father, please revive Your people and return us to the path of faith in Jesus' Name
7.Father, please, preserve and empower me to do exploits for You and Your kingdom, and let all my efforts to win souls for Christ, succeed and be richly rewarded, in Jesus' name.
8.Father, empower me to do Your work in day time, because the night cometh, that no man can work, in Jesus' name.
9.Father, I want to continue to belong in Your fold for the rest of my life, in Jesus' name.
10.Father, bless your son, Pastor E.A. Adeboye and His family; they have started well, please, let him finish well and strong, in Jesus' name.
11.Father, bless every user of this platform, and all those who have been rebroadcasting them, in Jesus' name.
12.Father, let every challenge, hindrance and obstacle of getting these prayer points across to Your children, timely, and on daily basis be removed, in Jesus' name.
13.Your Personal petitions.
( Philippians 4:6)
14.In Jesus' name I pray.
(John 14:13-14; 15:16)
15.Thank you Father for answered prayers.
(1 Thessalonians 5:18).
#GodBlessMyNation.