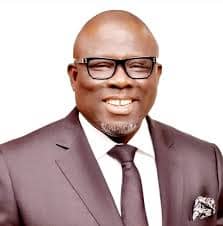 Posted by allcitynews.ng
A political cum public affairs pundits Pastor Joseph Obaro Ikupa (Esq) has cautioned those opposed to the emergence of the incumbent Delta State House of Assembly Speaker Rt ( Hon) Sheriff Oborevwori as the flag bearer of Peoples Democratic Party (PDP) in the 2023 Delta State governorship election.
Ikupa who is based in Warri, Delta State in an interview with our correspondent said that Oborevwori doesn't have identity crisis, adding that the various names that appear in various credentials belong to him as such his supporters have nothing to worry about.
In Ikupa words, "Do not allow the propaganda of Oborevwori's enemies and detractors on multiple names and change in his secondary school name to get to you.
"It's all propaganda. Most people have three or four names. However, most successful people write their four names when the need arises.
Similarly the analyst said, "Rt Hon Sheriff Francis Orohwedor Oborevwori is one and the same person as " Sheriff Oborevwori". There is no irrconcilable discrepancies in his name as surname Oborevwori is constantly on all his certificates and documents.
"Questioning this is like saying Wole Soyinka, is not the same person as Akinwade Oluwole Babatunde Soyinka, " he postulated.
The political analyst also said the critics who questioning Oborevwori's Secondary school being founded in 2014 , as a propaganda.
According to him, the school was founded in 1970 as a missionary school by the name Baptist High School and it was later changed to Oghareki Grammar School.
"After the government of Uduaghan returned it to the missionaries ( churches) in 2011, the Baptist Church that took it over in 2012 renamed it Baptist Mission school and the government founded a new school known as Oghareki Grammar School to replace the one handed over to the church in the community in 2014.
"So, anyone thinking that something will go wrong somewhere and what happened in Lyon's case in Bayelsa will be replicated in Delta are having the wrong notion," he noted.
The pundit also appealed to Uhrobo Progress Union (UPU), leadership to throw their support behind Oborevwori as one of their illustrious son.
According to the renowned political analyst, it's not too late for the UPU leadership to retrace it's footsteps.
He stressed that the greatest mistake the UPU leadership will make is to support another candidate against Sheriff Oborevwori, adding that Delta State is a PDP state.
"So, anyone thinking that if one PDP's camp decamped to support another party candidate, then they  can defeat Sherrif Oborevwori and PDP come 2023 should have a rethink.
"The right thing for the UPU leadership to do now is to congratulate Sheriff Oborevwori and support him at the governorship election coming up in February 2023," he advised.
It would be recalled that Sheriff Oborevwori will square up against the current Senate Deputy President Ovie Omo – Agege, of All Progressive Congress ( APC), Great Ogboru and others.
ADVERTISE or PUBLISH a Story on allcitynews.ng: Kindly contact us at ojezand@yahoo.com. Have breaking story! Please send such with pictorial evidence to the above email. Thank you.
Disclaimer:
Comments expressed here do not reflect the opinions of allcitynews.ng or any employee thereof. It assumes no responsibility or liability for any errors or omissions in the comments.