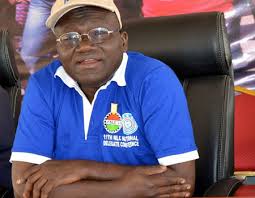 By allcitynews.ng
The Director General of Michael Imoudu National Institute for Labour Studies [MINILS], Ilorin, Kwara State, Issa Aremu, has commended Mr Sanwo- Olu, Lagos State Governor over the 20 per cent salary increment.
And even as he called on other state governors to emulate the good gesture of Lagos State Governor in payment of living wage to their workers.
Also he reminded state governors to work in line with the set target of President Muhammadu Buhari when raised minimum wage to N30,000.
"I want to commend Sanwo-Olu for the increase in view of crisis of food inflation and cash crunch occasioned by the controversial cashless policy!
"Thumbs up for Sanw-Olu. Recalled, President Muhammadu Buhari commendably raised minimum wage to N30,000 good that governors are improving on living wage! This gesture also compliments the vision for the President elect Asiwaju Bola Tinubu on addressing the crisis of compensation among the workers in Nigeria!"
It would be recalled that Mr Sanwo Olu, on Monday, 20 March 2023 not only increased the salary of workers in Lagos State by 20 per cent but also backdated it to January 2023.
For ADVERT Placement;
for EVENT Coverage;
Have story to PUBLISH;
HAVE Breaking story with pictorial evidence
OR wants to assist allcitynews.ng
by DONATIONS,
kindly contact us via ojezand@yahoo.com. Thank you.
Disclaimer:
Comments expressed here do not in anyway reflect the opinions of allcitynews.ng or any employee thereof. It assumes no responsibility or liability for any errors or omissions in the comments.
Allcitynews.ng's goal: To be the most influential, informative and reliable issues-based online newspaper in working for the unity, peace and development of the Country.