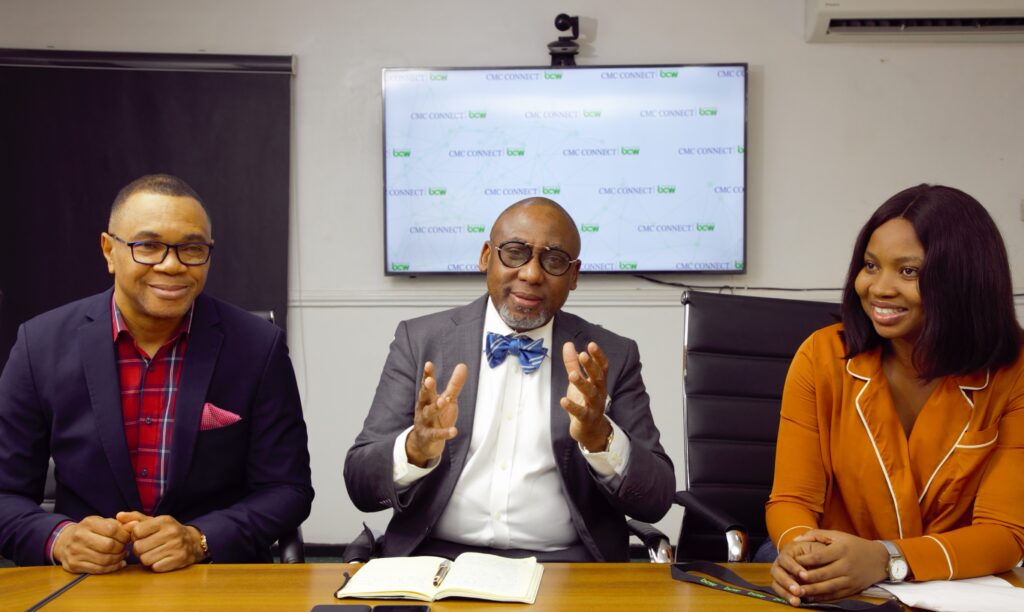 At 30, our flag is still flying high!
Full text of the speech read by Mr. Yomi Badejo-Okusanya, Group Managing Director of CMC Connect (Perception Managers) at the flag-off ceremony of activities marking the 30th Anniversary of the firm
The Opening
The Chairman, Members of the Board of Directors, Valued Clients, Esteemed Stakeholders, Members of Staff, and Gentlemen and ladies of the press.
On behalf of CMC Connect (Perception Managers), I thank you for honouring our invitation to witness this very auspicious occasion as a firm and perhaps for the entire Public Relations consulting sub-sector in Africa. On a day like this, it is only proper to give a brief historical background in order to put things in proper perspective.
The Firm Purpose
It all started with a dream in a 3-bedroom flat off Toyin Street, Ikeja in the early 1990s to build a public relations practice that will offer incisive solutions-driven services to a growing clientele in the then-emerging concept of Integrated Marketing Communication (IMC). Even though forged in the fire of the then turbulent Post June 12 election crisis, the visionaries of the company had made up their minds not just to build a company but rather an institution. A company, if lucky dies after the founder, while an institution is built for generations.
This particular intent drove several strategic decisions made in the trajectory of the company. Significant among these was the decision to be a 'small fish in a big ocean' rather than a 'big one in a small ocean'. This decision was quickly tested within five years of its existence when an opportunity came to be part of the Lawson Thomas & Colleagues Group which held the J Walter Thompson affiliation in Nigeria. JWT as it is popularly known is a WPP Company, the largest marketing communication group in the world quoted on the London Stock Exchange and led by the famous Martin Sorrell. The visionaries of the firm took the bold and uncommon decision to sell a majority of its shareholding to the LTC Group.
While many advised against this move, the visionaries saw a great opportunity to be mentored by one of the first in class marketing communication agencies with such an enviable global partnership. It was indeed a great period of mentoring, management, development, accountability and corporate governance. This worked so well that the local affiliate of McCain Erikson, STB McCain also bought into the business further diluting the initial ownership. At this point, the firm then known as Capital Marketing & Communication (CMC) was re-christened CMC Connect to reflect the buy-in of STB McCain.
Our firm owes a depth of appreciation to the leaders of the various businesses who believed enough to invest in our dreams. I will like to mention the likes of Mr. Billy Kolawole Lawson, Mr. Babatunde Dabiri, Mrs. Bola Thomas, Mr. Victor Edegbe, Sir Steve Bamidele Omojafor, and of course my indefatigable friend and brother, Mr. Rufai Gbolagade Ladipo. Some came on board later, let me use this opportunity to acknowledge our current chairman Mr. Akinmolu Opeodu and another director, Mr. Olaolu Akinkugbe.
I also extend our gratitude and appreciation to every single person who at one time or the other agreed to serve on our board. We are eternally grateful to you all, individually and collectively. As the saying goes, all good things always come to an end, the firm's relationship with both LTC and STB amicably came to an end in 2014.
Expansion & Affiliation
Subsequently, the business transformed into a group giving birth to subsidiaries, namely: CMC Connect BCW, Reignite Public Affairs, I-octane Digital, and Tangalo Africa (an agro-focused media company). Prior to that, the firm had entered into a relationship with Arcay Network of South Africa which ultimately culminated in our flagship business becoming affiliated with BCW, the third-largest global network.
Our affiliation with BCW whose history can be traced to the icon of modern public relations, Mr. Harold Burson, has been largely rewarding, especially in the areas of business reference and capacity building. On behalf of the firm, I thank BCW Africa, the largest public relations network on the continent for the rewarding relationship and our particular appreciation goes to its Chairman, Mrs. Robyn D' Villers for 15 years of unbroken relationship. We look forward to many more.
The Company We Keep
In the last 30 years, we have had the privilege of serving clients across diverse sectors of the economy. They have continuously challenged us, thus bringing out the best in us. They have trusted us to understand and deliver on their reputation and communication strategies. To these clients, we are deeply grateful for the implicit confidence because we are only because they are. They include Peugeot Nigeria, Brirish American Tobacco, Virgin Atlantic, Shell Nigeria, Microsoft, Intels, HP, Unity Bank, Airtel, Lagos State Government, Ogun State Government, Delta State Government, Pfizer, Japaness Tobacco, CNN, Warner Brothers, FMTX, Copterjet, Jagal Group, Teju Group, Chief Mrs. Opral Benson, President Ellen Sirleaf Johnson, Chief Harry Ayoade Akande, ICAN, NIC, LCCI, and a host of others.
Our Associates
Apart from our clients, our greatest asset has been in our workforce. Our firm will definitely not be where it is today without the crop of outstanding staff we have had and still have. The dedication and commitment of both past and present staff collectively brought about the reputation we are truly proud of today. CMC Connect (Perception Managers) has had the privilege of shaping so many destinies, with many outstanding alumni scattered across various endeavors, and serving as leaders across the globe. Many continue to show a keen interest in the firm, investing time and effort to make sure it succeeds. Our appreciation goes not just to them, but also to the present crop of staff who are keeping the torch burning. Our firm will continue to be an academy for those desirous of excelling in our profession and there will always be a place for such potentials with us.
Let me also use this opportunity to thank all our stakeholders including vendors, and other third-party partners. Of all of these partners, one that is very warm and dear to us is that which we have with the media. When CMC Connect (Perception Managers) was born, there were no dedicated writers in marketing communications. With the evolution of IMC, the likes of Akin Adeoya, John Ajayi (now of Marketing Edge), Bankole Ebisemiju, and later the late Tumise Adekunle emerged. These are the forerunners of what has now become the Brand Journalists Association of Nigeria (BJAN) with which we have always enjoyed a very robust relationship. We cherish this relationship and intend to keep it very warm as it has been. The work in partnership has been extended to other beats including the Photo Journalists Association. You can always count on us for support.
Our Contributions
CMC Connect (Perception Managers) will continue to serve as a responsible corporate citizen contributing its own quota to its community through taxes, employment, capacity building, professional development, and community relations. To this end, the firm will continue to provide placements for undergraduates as a way of mentoring them.
CMC Connect (Perception Managers) has contributed significantly to the progress of the industry and the profession, thereby playing leading roles in the growth and development of the Nigerian Institute of Public Relations (NIPR), the Public Relations Consultants Association of Nigeria (PRCAN), the African Public Relations Association (APRA) and even the Global Alliance for Public Relations.
CMC Connect (Perception Managers) in support of the environment has also embarked on an initiative known as Plastic Responsibly which seeks responsible action in the manufacture, usage, disposal, and recycling of plastic products.
Our Challenges
As it is with all endeavors, we as a business and indeed as a sector have faced several challenges and will continue to do so. The service we offer is intangible, and many of our stakeholders especially clients and the government are still not very clear about the value public relations 'brings to the table'. Many still mix it up with media relations, protocols, and even extremely annoying, bribe giving.
Let me make this clear: That is not public relations. Rather, public relations is a management tool in both the science and art that analyses trends, predict their outcomes, and counsels organisational leaders both in the public and private sectors about their consequences.
As a result of this lack of understanding, public relations is yet to take its rightful place among the comity of professions. It has not been accorded the right status and certainly not the right value. Public Relations continues to suffer from the belief by those in charge that it is an all-comers affair.
This is very far from the truth and it is therefore not surprising that many publics suffer huge reputation damage that refrains them from attaining their full potential. A case in point is that of the Federal Government and the image of Nigeria. Going forward, I strongly believe we must put the 'right peg, in the right hole' if we ever hope to progress. A professionally NIPR-certified public relations practitioner is the right person for the job of Special Adviser on Communications.
PR itself needs PR. It is a case of 'physician heal thy self. While we are out there protecting the reputation of our clients and principals, that of our profession is taking a significant bashing. This is why CMC Connect (Perception Managers) has placed itself at the forefront of an initiative called Affirmative Public Relations. We must borrow a leaf from the gender advocates who have succeeded in globally drawing attention, shaping the narrative, and actioning the concept of gender equality.
Our Future
In line with our belief in building an institution rather than a company, CMC Connect (Perception Managers) is poised to take on the future boldly. While our competitive edge remains strong consumer insight coupled with creative but impactful solutions, we are reviewing our offerings to be fully in line with contemporary challenges with engaging technology as an enabler to deliver our objectives.
We are radically interrogating and innovating our processes to deliver much better results through our bouquet of services viz: Corporate Communications, Reputation and Brand Management, Crisis Management, Media Strategy & Relations, Corporate Social Responsibility (CSR), Political Communications, Government Relations, Issues Management & Advocacy.
Having realized that there can never be 'success without succession', CMC Connect (Perception Managers) has decided to transmute from a limited liability company to a Limited by Partnership organisation. This is along the lines of top consulting and law firms. It means the business will grow along the line of key practice areas headed by partners.
Each practice area will operate as a Profit & Loss center under the supervision of a board with a Managing Partner coordinating the practice areas. It will also make room for Consulting Partners who are not necessarily employees of the firm. This arrangement will see a significant portion of the firm's shareholding being conceded to the partnership, which in turn brings about shared earnings. It is believed that the new entity to be known as CMC Connect LLP will boost ownership, continuity, and definitely succession planning.
This evening, we invite you to join us in flagging off not just the celebrations marking our 30th Anniversary, but also the next 30 years of our corporate existence. Even though the future looks challenging, we are emboldened by the fact that as an organisation. We will keep re-inventing ourselves, showing adaptability and resilience that guarantees business continuity.
Final Appreciation
Let me use this opportunity to appreciate God Almighty for His provision and protection over us as firm. Being in operation for thirty years when the life expectancy of SMEs in Nigeria are below five years. Not only are we in operation, but we are also in leadership. It can only be by His Grace.
At this juncture, I wish to thank my wife for her complete and total belief in me. Many times, the housekeeping allowance went to propping up this venture. You are a champion and advocate for us, and never once have you exerted undue influence based on your enormous silent contribution. Thank you so much and words fail me. I thank our son, Olaoluwakitan for the love, understanding, and support as I am often away. I thank my family for their support, my in-laws, and of course my friends. Particularly, I thank Uyi & Gbemi Giwa-Osagie, Babatola Akinkugbe, Akintunde Oluwaleimu, and many others too numerous to mention. However, I must pay respect to my friend, brother, and pastor, Reverend Dr. Olufemi Paul, and his family for their prayers and support over the years. May God bless you all.
Our Prayer
To all our stakeholders especially clients, you have trusted us with your brands for the last 30 years. We are requesting that you reaffirm that trust for the next thirty years. Today marks the first 30 years of celebrations, many of such celebrations we look forward to as an organisation.
I thank you for your kind attention. Our Flag is Still Flying High! … Ain't No Stoppin' Us Now, We're On The Move!