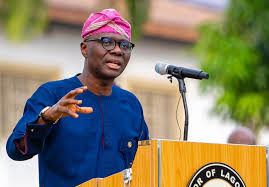 By allcitynews.ng
Though Lagos is a city of contrasts, thrilling, challenging to live in, yet,
Sanwo-Olu who doesn't do anything out of emotion or sentiments has provided vehicles for all the Student Union Government (SUG), in the Lagos State whether they are leaders in the state or federal institution, 9,000 students from 76 schools have benefitted from various advocacy programmes and sensitization organized by the ministry as part of their school social work service.
In addition 92 families also have benefitted from the school social work through its home visitation and training exercise to address the plight of school children to be morally guided and controlled.
The Commissioner for Youth and Social Development in Lagos State, Olusegun Dawodu, who made this known, reiterated that: in the fast-growing metropolis of Lagos, life is a constant hustle for many. With a population of an estimated 21 million people and one of the highest population densities in the world, Lagos is a city of contrasts that is both thrilling and challenging to live in.
Meanwhile the state is not without a governor who many have agreed to be one hardworking fellow.
Governor Babajide Sanwo-Olu emerged governor in 2019 and since then, many say there has been a renewed sense of hope among Lagosians.
Governor Sanwo-Olu, a former banker and public administrator, assumed office in May 2019 under the platform of the All Progressives Congress (APC) party. Since taking office, he has made it his mission to transform Lagos into a smart, sustainable, and resilient city, one that is capable of meeting the needs of its rapidly growing population.
According to the Commissioner for Youth and Social Development in Lagos State, Olusegun Dawodu, governor Sanwo-Olu has achieved a lot in the last three years plus of his administration.
The Commissioner said the three universities in Lagos states never went on strike when other universities were going on strike because he provided everything they required to stay afloat.
Road networks
Mr Dawodu who made this known said the governor has done a lot when it comes to road network across Lagos.
He said one of Governor Sanwo-Olu's most significant achievements has been in the area of transportation.
"Lagos is notorious for its traffic congestion, which can sometimes bring the city to a standstill. However, under the governor's leadership, several initiatives have been put in place to ease traffic flow and make transportation more efficient.
"One of these initiatives is the Lagos Bus Service (LBS), which is a state-owned and operated bus service that is designed to provide affordable, reliable, and comfortable transportation for Lagosians.
The LBS has already deployed over 800 modern buses across the city, with more expected to be added soon. In addition, the governor has also signed agreements with ride-hailing companies like Uber and Bolt to provide additional transportation options for residents.
"We just completed the blue rail line. It is a huge investment and another way to increase our intermodal transportation system. The red line is coming on stream," he said.
Health care
He also noted that the governor has done a lot in terms of health care saying they are starting a massive children hospital in Lagos Island.
"A lot of maternal care centers has been built. We have re-planned our fire station, services stations. We have provided fire engines for our staff there, held training facilities for them, enhanced monuments and allowances for them.
"You see our waterways now; a lot of ferries are going in and out. The Lagos State Water Ways Authority is there and everything is going smoothly to the extent that when our Super Eagles came to Lagos and they wanted to go to Benin-Republic for a match, they went by the waterways," he said.
He said Lagos State is no bean cake and it is not for jokers at all as he added that it is a serious business because Lagos like everybody says is a mini Nigeria, a cosmopolitan city.
Speaking on what the governor has done for youths in the state, the commissioner said in 2019 when they came into power, the National Youth Council of Nigeria, Lagos State chapter was in crisis but his administration resolved it, conducted an election for them and since then the council has been peaceful.
"One thing Mr governor told me was that I should listen to the youth, engage them because it's important. Don't just sit in your office and come up with a programme that you think will benefit them when in actual fact that is not what they need and we set out to do that.
"We made sure they had access to us and our office and one time I heard them say they didn't even know that there was an existing ministry of youth in Lagos State because nobody engage them," he said.
The commissioner said the first thing he and his team did was to change the mind-set of the youth to guide them through their youth stage to adulthood and leadership roles.
He said many of the youths thought that the government must do everything for them but trainings were provided that helped changed their mindsets.
"After the training, the governor sponsored 15 youth to Spain for another leadership programme. They are now impacting on others and getting appointments based on what they have learnt.
Aside this we also organize business and communication skills training for them so that they can set up their own businesses with ease, write proposals and leadership qualities.
We created what we call ambassadors, we have states ambassadors and five divisional ambassadors who work with another 20 Ambassadors who go around to talk to their fellow youth and then come up with pet projects in their various communities which we assist them to do.
He said after the programmes they decided to build a relationship with the youths and the police so they started the first edition of police, youth dialogue where they bring the police and the youth together to talk about issues they face with the police and experiences of police with the youth as well.
"We don't want the police to see all youth as criminals and we want them to have mutual respect and understanding of each other. It is the first ever in the country, no other state has done and we will continue to do it because it is important for us and the governor that there is a good relationship between the youth and the police," he said.
Youth timeout with the governor
Speaking on the annual youth timeout with the governor, Mr Dawodu said it is a very important activity because it is part of the continuous engagement with the youth by the government.
He said it is an opportunity to hear from the youth, to discuss with them, to feel their pulse and answer any question they have for the state government as well as clarify issues.
"Mr governor is comfortable with the youths, he believes in them and he is always ready to meet with them and letting the, know the plans we have for them and what we are doing for them," he said.
Assuring everyone living in Lagos State that the governor doesn't discriminate, Mr Dawodu said that Lagos State is very accommodating even to destitute from other states.
"Yes, we put them in our facilities, we feed them and even educate some of the children in our schools. Medical services are provided to them free of charge even though it is a lot of burden on us.
"Everybody keeps saying that Lagos has money but the revenue we generate has to be looked at vis-à-vis the responsibility of the state government. People keep coming into the state and we keep accommodating them and we take care of the vulnerable and needy in the society," he said.
Achievements of the Ministry of Youth and Social Development On the achievements of Ministry of Youth and Social Development (MYSD), from the day they took office, the commissioner said the Ministry has so far held a 5-day training on community dialogue to address violence against women and girls by engaging in community dialogue to transform perceptions, behavior, attitude and harmful practices of individuals and communities.
He said over 9,000 students from 76 schools have benefitted from various advocacy program and sensitization organized by the ministry as part of their school social work service.
"92 families also benefitted from the school social work through its home visitation and training exercise to address the plight of school children to be morally guided and controlled," he said.
Saying the Ministry in conjunction with Lagos State Police command, Neighborhood Watch, Lagos State Task Force and Volunteers from the Sustainable Development Goal and Investment Office embarked on rescue of beggars, destitute, miscreant off the streets of Lagos, he said the operation which is still ongoing commenced has resulted in the rescue of over 150 persons from different parts of Lagos.
He noted that the ministry held an annual interactive session with voluntary youth organizations and non-governmental organization in Lagos State where cheques were presented to them as a form of financial assistance for their organizations.
Asked what the ministry did with the nine students who were caught smoking tobacco in Oreyo Senior Secondary School, Ikorodu, he said they were taken through reformation and behavioral modification for four months and 14 days at the Special Correctional Centre for Girls at Idi Araba.
The commissioner said the Ministry also collaborated with the Mushin LGA to hold a diversionary community rehabilitation programme aimed at correcting and reforming children who are in conflict with the law.
"Referral Authorities were trained on how to handle such children as well as production and airing of radio jingles to curb street begging, child abuse and other vices," he said.
Continuing he said, in 2021, the Ministry organized the Ibile Youth Academy where hundreds of youths participated.
He noted that in the same year, the International Youth Day (IYD), celebration themed "Transforming Food System: Youth Innovation for Human and Planetary Health," was held.
"Another achievement for us is being commended by the governor for the standardization of the state adoption process.
"Lastly, is the renovation of youth centres and old peoples' home across the state including Abesan Youth Centers, Omituntun Youth Centres, Ikorodu Youth Centers, Lafiaji Youth Centres, Ikeja Youth Centers, Yaba Old People Home."
For ADVERT Placement;
for EVENT Coverage;
Have story to PUBLISH;
HAVE Breaking story with pictorial evidence
OR wants to assist allcitynews.ng
by DONATIONS,
kindly contact us via ojezand@yahoo.com. Thank you.
Disclaimer:
Comments expressed here do not in anyway reflect the opinions of allcitynews.ng or any employee thereof. It assumes no responsibility or liability for any errors or omissions in the comments.
Allcitynews.ng's goal: To be the most influential, informative and reliable issues-based online newspaper in working for the unity, peace and development of the Country.