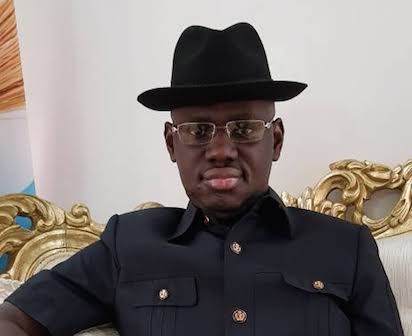 ***says US, UK, EU should reverse his visa status
A political activist and former Deputy National Publicity Secretary of the All Progressives Congress (APC), Timi Frank, on Monday, called on the the international community to review and reverse all the current visa status of the chairman of the Independent National Electoral Commission (INEC), Prof. Mahmood Yakubu for conducting the worst election in Nigeria.
He also told him to, as a matter of urgency, resign of his appointment or alternatively, President Muhammadu Buhari should "do the needful by relieving him of his position for conducting the worst ever rigged election in the history of Nigeria."
Frank, the Ambassador of the United Liberation Movement for West Papua (ULMWP) for East Africa and Middle East, in a statement in Abuja, also called on President Buhari to be courageous enough to sack Professor Yakubu "for bringing shame and opprobrium to the country by declaring highly compromised and heavily doctored results as an outcome for the just concluded Presidential and National Assembly elections."
He said it was high time the INEC boss resigned because Nigerians have lost total confidence in him.
Frank called on the academia to strip Prof. Yakubu of his professorship rank because he has brought shame to that highly revered and top echelon of the academic community and scholars.
"Yakubu has failed to project the academia in good light through personal probity, integrity and fidelity to his promises and sacred trust of the people", he suggested.
Frank enjoined the global community to do the needful by canceling all visas presently in his possession "and never give him opportunity to visit any of the developed countries like United States, United Kingdom or any member countries of the European Union (EU)."
He said that the election conducted by Yakubu has failed to meet international threshold of transparency and credibility and all friends of Nigeria must of necessity denounce it.
The activist quoted the statement by the US Ambassador to Nigeria, Mary Beth Leonard in a statement on Sunday that the electoral process as a whole on February 25 failed to meet Nigerians' expectations.
She had added that while "many citizens are angry and frustrated with the results, some others are celebrating victories, they believe were hard-fought and well-earned."
Frank said, "We also use this opportunity to call on the international community especially the US, UK, EU and other international institutions not to recognize the outcome of the rigged and fraudulent elections conducted on February 25, 2023.
"This is the time Nigerians expect the international community to prioritize the interest of Nigeria first before their own interest in order to save our democracy.
"In this wise, they must not recognize the APC's purported President-elect until the final outcome of the cases in court.
We still use this opportunity to call on the judiciary to remove Nigeria from this shame through truthful, fact-based and unbiased judgement on the post election cases soon to be instituted before the Election Petition Tribunals and the appellate courts.
"We are supposed to be the light and example in Africa but with the dismal conduct of INEC and its officials during the last Presidential and National Assembly elections, other countries in the continent absolutely have nothing to learn from us because of what Yakubu and INEC have done."
He insisted that despite the avalanche of facts of rigging and manipulation that characterized the Presidential and National Assembly elections available in huge volume of videos, audios and documentary evidences, yet Yakubu went ahead to declare the APC's Presidential candidate, Bola Ahmed Tinubu, as winner.
He said, "Nigerians have lost confidence in Yakubu. His words and his promises mean nothing. He has started again by promising free and fair governorship and State Assembly elections but Nigerians are no fools because they know he will do exact the opposite.
"Prof. Yakubu has shown himself to be a practical disgrace to Nigeria and has brought shame, disgrace and embarrassment to Nigerians in the global community. Today, Nigeria is now a laughing stock among members of the international community.
"Even in 1993 without the use of technology, Nigeria conducted an election adjudged as the freest and fairest ever. But in an age of advanced technology like internet and BVAS in 2023, Yakubu chosed to compromise the oath of his office and obviated every truth and betrayed the confidence reposed in him by Nigerian taxpayers.
"Even at that time, the then Chairman of the defunct National Electoral Commission, Prof. Humphrey Nwosu, was asked to stop announcing results by then Military President, General Ibrahim Babangida, but he continued because he stood on the platform of truth and living conscience.
"This is why he needs to urgently resign or President Buhari should show capacity to throw him out."
For ADVERT Placement;
for EVENT Coverage;
Have story to PUBLISH;
HAVE Breaking story with pictorial evidence
OR wants to assist allcitynews.ng
by DONATIONS,
kindly contact us via ojezand@yahoo.com. Thank you.
Disclaimer:
Comments expressed here do not in anyway reflect the opinions of allcitynews.ng or any employee thereof. It assumes no responsibility or liability for any errors or omissions in the comments.
Allcitynews.ng's goal: To be the most influential, informative and reliable issues-based online newspaper in working for the unity, peace and development of the Country