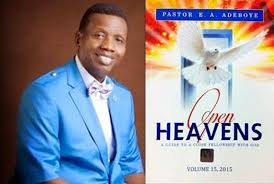 Topic for today, July 29: The Mathematics of Answered Prayers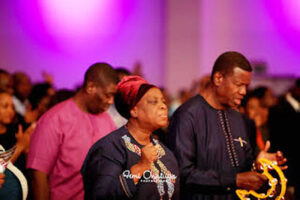 By Pastor E. A. Adeboye –
Memorise: Therefore I say unto you, What things soever ye desire, when ye pray, believe that ye receive them, and ye shall have them. – Mark 11:24 Read: Luke 11:1-13 (KJV)
1 And it came to pass, that, as he was praying in a certain place, when he ceased, one of his disciples said unto him, Lord, teach us to pray, as John also taught his disciples.
Also Read: Open Heaven 28 July 2020 – While Waiting
2 And he said unto them, When ye pray, say, Our Father which art in heaven, Hallowed be thy name. Thy kingdom come. Thy will be done, as in heaven, so in earth.
3 Give us day by day our daily bread.
4 And forgive us our sins; for we also forgive every one that is indebted to us. And lead us not into temptation; but deliver us from evil.
5 And he said unto them, Which of you shall have a friend, and shall go unto him at midnight, and say unto him, Friend, lend me three loaves;
6 For a friend of mine in his journey is come to me, and I have nothing to set before him?
7 And he from within shall answer and say, Trouble me not: the door is now shut, and my children are with me in bed; I cannot rise and give thee.
8 I say unto you, Though he will not rise and give him, because he is his friend, yet because of his importunity he will rise and give him as many as he needeth.
9 And I say unto you, Ask, and it shall be given you; seek, and ye shall find; knock, and it shall be opened unto you.
10 For every one that asketh receiveth; and he that seeketh findeth; and to him that knocketh it shall be opened.
11 If a son shall ask bread of any of you that is a father, will he give him a stone? or if he ask a fish, will he for a fish give him a serpent?
12 Or if he shall ask an egg, will he offer him a scorpion?
13 If ye then, being evil, know how to give good gifts unto your children: how much more shall your heavenly Father give the Holy Spirit to them that ask him?
Bible in One Year: Isaiah 54-58
Open Heaven 29 July 2020 Wednesday MESSAGE:
In my book the Mathematics of Answered Prayers, I explained my points using simultaneous equations, but here, we will be using simple algebra. For your prayers to be answered, you will need to apply the following algebraic equation.
F (P+ W + R + JN) = Answered Prayers
Faith (F) is the constant variable that must affect every other element of your equation before your prayers can be answered. Hebrews 11:6 says:
"But without faith it is impossible to please him: for he that cometh to God must believe that he is, and that he is a rewarder of them that diligently seek him."
Without faith it is impossible to please God and of course if you displease Him, how would you expect Him to answer your prayers?
The next thing you need is to Praise Him (P). Psalm 100:4 shows that praises attract God's attention and make Him willing to hear you. In fact, if you just praise God and don't make any requests, He will ask you for what you want. This was the case with Solomon after he had given a thousand burnt offerings to God without making any request. God told him in a dream to ask for whatever he wanted (1 Kings 3).
Pray with reference to the word (W) of God. Before you bring a request to God, find out what His word says about it, then quote it back to Him; this is praying according to His will. James 4:3 says we ask and do not get our miracles because we ask amiss. When you ask according to the word of God, you cannot ask amiss. After this, present your Request (R). Lastly, make sure that you are presenting your request in Jesus name (JN). When you pray in the name of Jesus, you are placing the personality of Jesus behind your request and since God cannot deny Him anything, He will not deny you. He will attend to your request just as He attends to the requests of Jesus.
Open Heaven 29 July 2020 Wednesday Key Point:
Don't just barge into God's presence with your requests; make sure you have all that you need for your prayers to be answered.
Open Heaven 29 July 2020 Wednesday Hymn 24: Pass me Not, O Gentle Saviour
Pass me not, O gentle Savior;
hear my humble cry;
while on others thou art calling,
do not pass me by.
Refrain:
Savior, Savior,
hear my humble cry;
while on others thou art calling,
do not pass me by.
Let me at thy throne of mercy
find a sweet relief;
kneeling there in deep contrition,
help my unbelief. [Refrain]
Trusting only in thy merit,
would I seek thy face;
heal my wounded, broken spirit,
save me by thy grace. [Refrain]
Thou the spring of all my comfort,
more than life to me,
whom have I on earth beside thee?
Whom in heaven but thee? [Refrain]
Special note:
Beloved Reader, if you are yet to give your life to Christ Jesus, I would advise you to do so before you continue in this reading. Remember! The Lord Jesus in John 3:3 says, "Truly, truly, I say to you, unless ye are born again, ye cannot see the kingdom of God."
And remember there is nothing like once born again, you remain born again forever. Examine yourself on regular basis. If you are ready to give your life to Christ Jesus, please pray the displayed prayer below in faith:
Lord Jesus, come into my life. I accept You as my Lord and Personal Saviour. I believe in my heart You died and rose from the dead to save me. I confess all my sin, have mercy on me, forgive me all sin, give grace to go and sin no more. Thank You Lord for saving me, in Jesus name Amen.
If you just prayed the prayer of salvation online please send your testimonies and prayer request to info@rccg.org, +234-1-8447340, +234-0-7098213112.
Advertise your goods and services with us. Email us: ojezand@yahoo.com. And also, you can do CHANGE OF YOUR NAME IN PRINTED NEWSPAPER. God bless you richly in Jesus name.
GOOD MORNING BELOVED, as you are visiting this platform right now, save this website (allcitynews.ng) on your device to ease your next visit.
Good Morning Beloved, Thank you for your patient with us: thank you for all your comments, observations, feedbacks and time spent on this platform. We cherish your presence here.  In the name of Jesus Christ of Nazareth, you will never be a victim to whatever calamity from kingdom of darkness and all its agents, Amen!