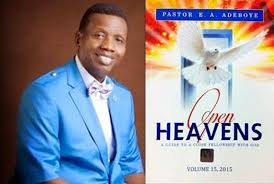 Topic for Saturday June 27: Your prayer request reveals the real you!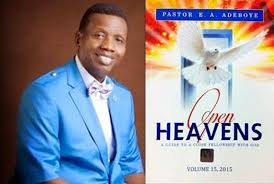 By Pastor E. A. Adeboye
Memorise: Ye ask, and receive not, because ye ask amiss, that ye may consume it upon your lusts. – James 4:3
Read: 1 Kings 2:13-24 (KJV)
13 And Adonijah the son of Haggith came to Bathsheba the mother of Solomon. And she said, Comest thou peaceably? And he said, Peaceably.
14 He said moreover, I have somewhat to say unto thee. And she said, Say on.
15 And he said, Thou knowest that the kingdom was mine, and that all Israel set their faces on me, that I should reign: howbeit the kingdom is turned about, and is become my brother's: for it was his from the LORD.
16 And now I ask one petition of thee, deny me not. And she said unto him, Say on.
17 And he said, Speak, I pray thee, unto Solomon the king, (for he will not say thee nay,) that he give me Abishag the Shunammite to wife.
18 And Bathsheba said, Well; I will speak for thee unto the king.
19 Bathsheba therefore went unto king Solomon, to speak unto him for Adonijah. And the king rose up to meet her, and bowed himself unto her, and sat down on his throne, and caused a seat to be set for the king's mother; and she sat on his right hand.
20 Then she said, I desire one small petition of thee; I pray thee, say me not nay. And the king said unto her, Ask on, my mother: for I will not say thee nay.
21 And she said, Let Abishag the Shunammite be given to Adonijah thy brother to wife.
22 And king Solomon answered and said unto his mother, And why dost thou ask Abishag the Shunammite for Adonijah? ask for him the kingdom also; for he is mine elder brother; even for him, and for Abiathar the priest, and for Joab the son of Zeruiah.
23 Then king Solomon sware by the LORD, saying, God do so to me, and more also, if Adonijah have not spoken this word against his own life.
24 Now therefore, as the LORD liveth, which hath established me, and set me on the throne of David my father, and who hath made me an house, as he promised, Adonijah shall be put to death this day.
Bible in One Year: 1 Kings 20-21
Open Heaven 27 June 2020 Saturday MESSAGE:
Prayer is a special medium, a divine frequency by which Christians communicate with God. It is also a very powerful weapon of spiritual warfare. Prayer is well recognized as a means of walking with the Almighty God. Meanwhile, walking is a kind of journey, and while there are many kinds, there is none more blessed and productive than a prayer journey. Simple prayers offered by individual or a group of people were responsible for many of the great miracles and moves of God in different parts of the world as seen in history.
Also Read: You Must Be Significantly Relevant By Pastor E. A. Adeboye
Today's Bible passage shows that we could desire something even to the point of killing for it. However, fighting a war does not guarantee our getting what we desire; the only guarantee is prayer.
Access to the prayer request of individuals may betray their innermost desires, lusts, and personal ambitions. Every Christian must critically watch and tailor his/her prayer request in line with the word of God. According to the memory verse also, one major reason for unanswered prayer is the basis of human lusts.
"And this is the confidence that we have in him, that, if we ask any thing according to his will, he heareth us:" – 1 John 5:14
Today, the fruit and gifts of the Spirit are only evident in the lives of very few Christians. Many genuinely born-again Christians, though not living a sinful life, are cold and operating far below Heaven's expectations for various reasons. We need a revival in the Church, from the very top to the last member! I pray that God will revive His Church again, break through our self-centered daily routines, and fill us with the fire of revival as of old, in the name of Jesus.
What do your prayer requests reveal about you?
Open Heaven 27 June 2020 Saturday Prayer Point:
Father, please kindle my fire of prayer and guide me to pray in Your will always, in the mighty name of Jesus.
Open Heaven 27 June 2020 Saturday Hymn 25: Rock Of Ages, Cleft For Me
Rock of Ages, cleft for me,
Let me hide myself in Thee;
Let the water and the blood,
From Thy wounded side which flowed,
Be of sin the double cure,
Save from wrath and make me pure.
Not the labor of my hands
Can fulfill Thy law's demands;
Could my zeal no respite know,
Could my tears forever flow,
All for sin could not atone;
Thou must save, and Thou alone.
Nothing in my hand I bring,
Simply to Thy cross I cling;
Naked, come to Thee for dress;
Helpless, look to Thee for grace;
Foul, I to the fountain fly;
Wash me, Savior, or I die.
While I draw this fleeting breath,
When my eyes shall close in death,
When I rise to worlds unknown,
And behold Thee on Thy throne,
Rock of Ages, cleft for me,
Let me hide myself in Thee.
Special note:
Beloved Reader, if you are yet to give your life to Christ Jesus, I would advise you to do so before you continue in this reading. Remember! The Lord Jesus in John 3:3 says, "Truly, truly, I say to you, unless ye are born again, ye cannot see the kingdom of God."
And remember there is nothing like once born again, you remain born again forever. Examine yourself on regular basis. If you are ready to give your life to Christ Jesus, please pray the displayed prayer below in faith:
Lord Jesus, come into my life. I accept You as my Lord and Personal Saviour. I believe in my heart You died and rose from the dead to save me. I confess all my sin, have mercy on me, forgive me all sin, give grace to go and sin no more. Thank You Lord for saving me, in Jesus name Amen.
If you just prayed the prayer of salvation online please send your testimonies and prayer request to info@rccg.org, +234-1-8447340, +234-0-7098213112.
Advertise your goods and services with us. Email us: ojezand@yahoo.com. And also, you can do CHANGE OF YOUR NAME IN PRINTED NEWSPAPER. God bless you richly in Jesus name.
Prayer Points on Today's Open Heavens For June 27, 2020 – Your Prayer Request Reveals the Real You!
1.Thank You, Father, for the salvation of my soul, for the weapons of our spiritual warfare, and for answered prayers.
2.Father, in anyway I have fallen short of your glory, please, have mercy and forgive me, in Jesus name.
3.Father, revive my prayer life and give me the grace to maintain a holy and righteous walk with You, for the rest of my life, in Jesus name.
4.Father, release upon me the prayer anointing; power to pray without ceasing and to decree a thing and for it to be established instantly, in Jesus name.
5.Father, help me to tailor all my prayer points in accordance with Your word and will and never let me ask amiss, in Jesus name.
6.Father, let every spirit of lukewarmness, prayerlessness and self centredness that have crept into my life and Your church be consumed by Your fire, in Jesus name.
7.Father, fill me to the brim with Your Holy Spirit, and empower me to manifest the fruits and gifts of the holy spirit, in Jesus name.
8.Father, rekindle the fire of Your revival in every department of my life, and in Your church, from the very top to the least member, in Jesus name.
9.Father, please, empower me to operate at the expected heavenly spiritual standard for my life, in Jesus name.
10.Father, bless your son, Pastor E.A.Adeboye, and renew Your anointing upon his life, in Jesus name.
11.Father, bless Your son, that You have been using to prepare these prayer points, beyond measures, and all those who have been rebroadcasting them, in Jesus name.
12.Father, let every challenge, hindrance and obstacle of getting these prayer points across to Your children, timely, and on daily basis be removed, in Jesus name.
13.Your Personal petitions. (Philippians 4:6)
14.In Jesus name I pray. (John 14:13-14; 15:16)
15.Thank you Father for answered prayers. (1 Thessalonians 5:18)